From SAMSARA producer Mark Magidson:
"We are happy this clip has struck a chord with so many people, and we hope that the interest in this clip will lead viewers to see SAMSARA in its entirety. This clip represents only 6 minutes from a 100 minute long film, which was photographed in 25 countries and explores many other diverse aspects of the human experience. We would love for viewers to experience SAMSARA as a whole."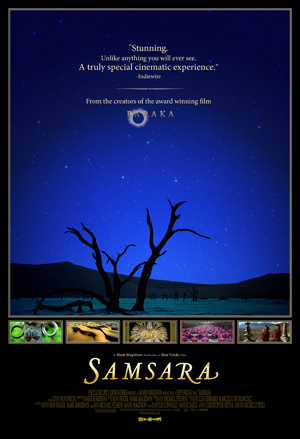 Samsara es una película no narrativa creada por los cineastas Ron Fricke y Mark Magidson. Es la secuela de la aclamada cinta Baraka, de 1992, que también fue dirigida por Fricke y producida por Magidson.
El término saṃsāra es una palabra en sánscrito que significa 'mundo' o 'existencia cíclica', pero es usada a menudo para describir actividades mundiales. Según el propio Fricke, el filme ahonda en su tema favorito: la relación de la humanidad con la eternidad.2 Tal como Baraka, esta obra fue rodada con película de 70 milímetros usando el sistema Panavision System 65 y utiliza música para impulsar la historia.